XEditPro - Automated Publishing Tool
XEditPro Publishing Suite is a cloud-based SaaS solution pioneered by diacriTech to streamline high-quality content production for books, journals, and periodicals. XEditPro utilizes a combination of AI, natural language processing (NLP), and intelligent workflows to significantly reduce human intervention and expedite publication turnaround time.
Pay-per-use licensing model offers no-risk solution to publishers
Auto-copyediting using NLP and AI to assist copyeditors
Collaborative authoring and editorial process with a web-based proofing tool
Significantly improved production times with automated page composition
Lowered editing and production costs
Instant online PDF proofs and EPUB after revises
Single-click delivery of Print PDF, Web PDF, HTML, XML, EPUB, Word at any stage
Automated updating of Index page numbers
Content enrichment through capture of critical metadata
In-built version control to effectively track and control changes
Flexible workflows designed to suit publisher's needs
Detailed project tracking to track the progress of each title at every stage
Ability to retrieve from and distribute content to multiple platforms through API calls
A forward-looking platform agnostic solution with commitment to XML standards
Supports quality attributes (Accessible, Discoverable, Interoperable, Maintainable)
Supports third-party vendors for editing, composition, proofreading, indexing, etc.
Integrates with DAM to organize, exchange, publish & distribute rich content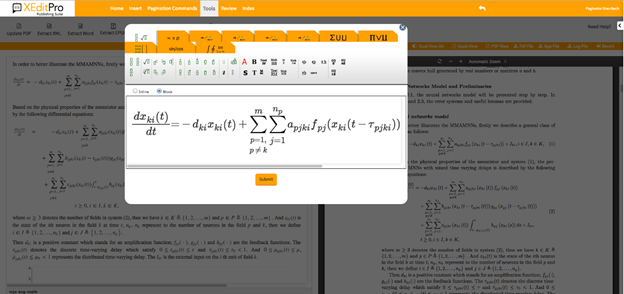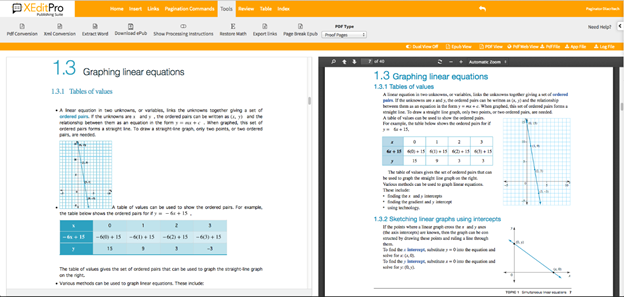 XEditPro provides smart editing tools which integrates naturally into the editor's job, to improve speed and quality.
Pre-editing & Assisted Copyediting:
Automated cleanup

Removal of extra spaces/tabs, section break, optional hyphen etc.
Insertion of space after full stop, comma before the next word etc.
Replace double punctuation marks/tabs with single one, page break by newline character etc.

Editorial style application
Reference management
Missing Links checking
Crossref, PubMed, ORCID & FundRef validation
Custom dictionaries
Rule-based structuring
NLP powered Grammar & Spelling checks

Suggestions to improve the sentence structure and readability
Option to accept or decline the suggestions
Proofing:
Online editing (Editing vs. PDF preview )
Easy to use Word-like WYSIWYG editor
Provides PDF for download/review and final PDFs for print /online delivery
Standard shortcut keystrokes for editing convenience
Multiple users managed with file locking control
Comments feature and author queries
Insertion and manipulation of non-text objects (Images/Tables/Equations/Symbols/Metadata etc.)
In-built equation editor for Math/Scientific formulae
Comprehensive Track Changes
Reference editing through forms
Internal & External Citation of Table/Image etc.
Auto update of external chapter links based on chapter reordering
Composing:
Auto update of external chapter links based on chapter reordering
Comprehensive set of pagination instructions
Custom pagination instructions
Flexibility in placement of anchored images in PDF and EPUB
Grouping and alignment of Images/Tables/both
Design elements such as text wrap-around images or grouped elements
Operator or decimal alignment in tables
Rotate table feature to handle long tables
Indexing/Glossary/TOC :
Creating and managing index entries based on selected words or phrases
Creating multi-level (primary, secondary, and tertiary) indexes by nesting index term elements
Manual and Automated indexing features
Support for see and see-also indexing elements
Automatic generation

TOC
Glossary
Table of Figures
Table of Authors
Book Creation :
Select chapters, reorder (drag & drop)
Automatic chapter and callouts(figure/table/box etc.) update while swapping chapters
Capture further details such as ISBN, CIP etc.
Generate book PDF for print/web
Insert cover page or any color plates
Automated

TOC Generation
Index creation with updated pages
Update of continuous page number
Creation of bookmarks and web links
Issue Make Up for journals:
Select articles that make up each issue and order them (drag & drop)
Capture information such as volume number, issue number, year, start page number, etc
Include advertisements
View articles in past and present issues
Auto generate TOC
Automatic continuous page number updating
Insert cover page
Single Source – Multiple Outputs:
XEditPro creates a variety of outputs to meet consumer's expectation of easy, immediate, inexpensive access to content in many formats and across many channels.

Workflow and Production Management:
Role-based access control and security
Seamless integration of various roles in the publishing life cycle
Content integrity through versioning and enforced workflow
Workflow customization
Real-time status notifications to indicate completion of milestones
Reporting dashboards on KPIs to monitor production status
Ability to rollback any stage in publishing life cycle
Production data archival
Built-in mail management system for project status communication
Configurable communication templates (mails/notifications)