ERP Software for Publishing
A well-defined Enterprise Resource Planning (ERP) software with workflow management capabilities complements any publishing project and helps in achieving a quick-to-market solution. It can also take the publishing experience to the next level with automation, scalability, and ease of use.
diacriTech has a proprietary ERP software, a cloud-based publishing software that can be used as a tracking tool and to monitor all functional processes from the receipt of manuscripts to print and digital deliverables. This ERP software, referred to as File Management System (FMS), is a quality and production workflow tool that has been successfully implemented utilizing methodologies rooted in in-depth publishing experience, established use cases, and technology expertise.
Why FMS?
FMS supports manuscript journeys that span the full complexity of publishing. It empowers stakeholders to benefit from the power of analytics, transparency (360-degree view of projects), ease of tracking, and an integrated workflow without operational silos. The architecture allows for administrative scalability and efficient automation to address the new and ever-changing needs of publishers.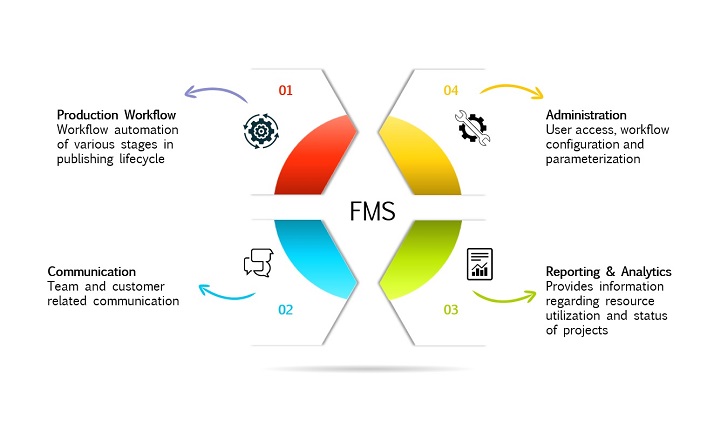 Advantages of FMS
Workflow and process-oriented, based on functional aspects of publishing lifecycle.
Allows a customized workflow to suit individual projects' requirements.
Role-based and accessible by roles setup for each task in a project.
Helps to align project deliverables with necessary resources by setting up a project plan.
Allows to map clear milestones and dependencies to the various stages of production lifecycle so that the whole team is aware of deadlines.
Allows norms to be mapped and tracked stage wise for each project depending upon complexity of work.
Instant mails/notifications triggered to team members regarding task assignment.
"Customers as stakeholders" allowing for extended participation and real-time visibility into project status through dashboard and project management tracking tool.
Enables stakeholders to recognize bottlenecks and take measures to keep production activities on track.
Provides KPI-based reports (with drill-down capabilities) to check schedule adherence, monitor project status, work in progress etc.
Supports content delivery in multiple formats including print, web, and mobile devices using updated file versions.
Facilitates quality checkpoints to be incorporated across the entire production line.
Quality Checking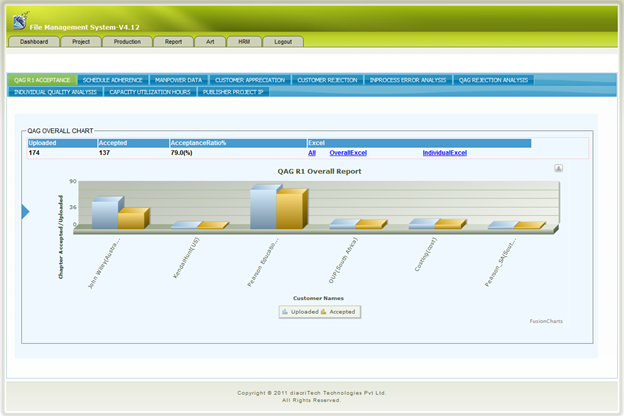 Project Management Tracking Tool