SSPARKL eReader application and Learning Management System
SSPARKL is a digital learning platform and an e-reader application with high-end capabilities to meet the expectations for both the learners' on-the-go and the diverse learning initiatives of the new-age education provider.
Why SSPARKL?
SSPARKL integrates the key lever's required for today's Learning Management Systems; content creation, management, and delivery of content, including assessment and interactive e-reader solution enabling easy compliance to emerging eLearning trends. For the institution – the school or university where it is implemented, it can lead to the successful introduction of innovations and fulfillment of educational goals.
SSPARKL provides a fantastic value proposition for usability for administrative features and the end-user experience. Its baseline version sets the stage for any educational institution to align their critical automation requirements of time-consuming tasks, extensibility, and scalability to the type of system needed.
Staying ahead of the curve
SSPARKL provides flexibility to support various industry-standard interactive e-reader formats (PDFs, ePubs, html5, MP3/4, etc.) and is designed as a multi-form factor (desktop, laptop, smart TVs, tablets, and mobile phone) enabled solution. It is a cloud-ready solution geared to meet today's education providers' new and changing needs and capable of handling ever-increasing volumes. It also supports multi-languages, enabling the rollout of the Learning Management System simultaneously in multiple regions.
Future-proof Solution
SSPARKL is a modular solution with microservices-based architecture that easily integrates the application with APIs. This enables cost-effective operations and agility to support future enhancements.
Learning Management Solution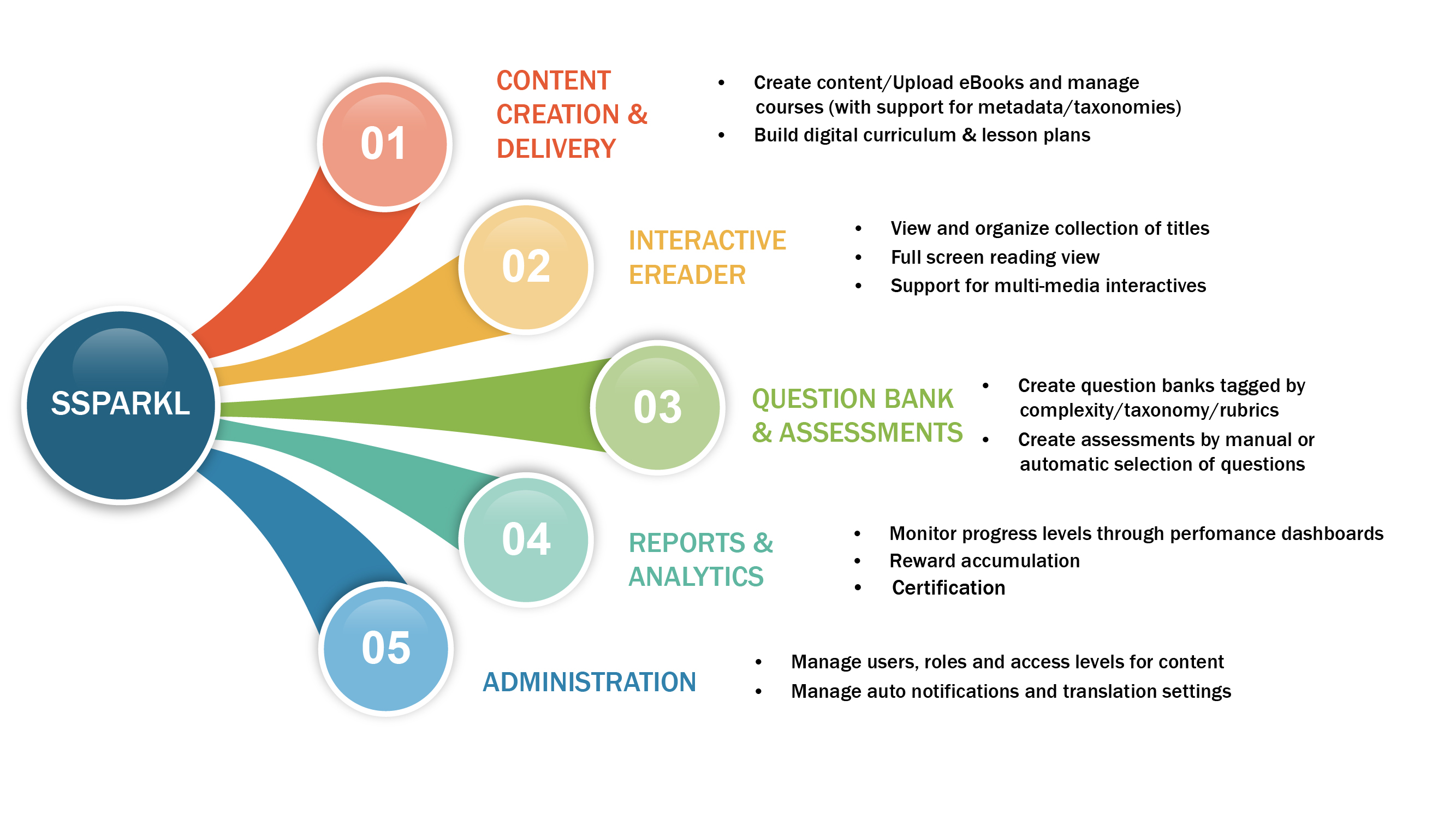 SSPARKL brings a unique combination of Content Creation & Delivery, an Interactive eReader, a Question bank, & Assessment and Analytics solutions to address the most pressing needs of today's Learning Management Systems.
Interactive eReader application
Library view:
Displays an overview of the collection of titles present in virtual bookshelves.
Books can be read just by selection or downloaded to be read offline.
Reading View:
This e-reader application Presents a full-screen reading view of a single eBook's content with Toolbar.
Highlight or underline keywords and phrases quickly with annotation support.
Convert text to speech.
Seamlessly search and navigate within the text, TOC, annotations, highlights.
Include various media resources type (animations/audios/videos/slideshows/interactives).
Use widgets (Calculator, Converter, Stop Watch, Drawing tools, etc.).
Mark content using Pen tool.
Easy navigation (Go to page/Next or previous page/view history/TOC/hyperlinks).
Adjust the text size to make reading more accessible by using the selective zoom option.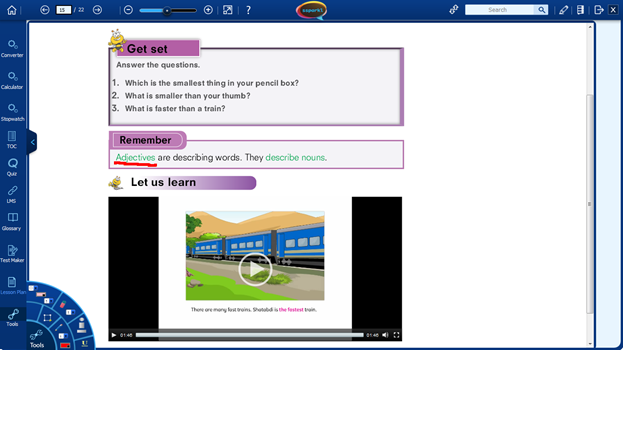 Question Bank & Assessments
The Question Bank provides a single access point to all the questions needed to construct assessments.
The Question Bank can be organized by subject, objective, taxonomy, level of difficulty, grade, or question type, i.e., based on any classification required by the user.
The different question types may be multiple choice questions, true/false, fill in the blanks, short and detailed answers, etc.
Users can create, preview, and edit questions.
Users can also remove questions after checking usability.
Once questions have been created in the repository, assessments that include them can be created.
For the Assessment creation, user has the option to select questions through manual or automatic methods.
The selected questions are presented in the form of a well-formatted, correctly numbered, and ready-to-print test paper.