What inspires a student to learn a subject and study it? There has to be a better way than the text-focused, traditional, and tedious approach. Well, there is. With smartphones and the internet becoming accessible to almost everyone, augmented and virtual reality have been earmarked as powerful learning hooks to capture learners' engagement.
Get more out of learning with Augmented and Virtual Reality apps!
How often have we heard Albert Einstein's quote 'Learning is an experience? Everything else is just information'. True to this fact, AR/VR based applications are primed to change the long-term perspective of how people think, reason and feel about any subject by providing mind-blowing experiences. These apps are developed on the basis that behind any curriculum is a set of principles and the way in which it is presented has a significant effect on the learning outcomes.
A typical use-case is the modern periodic table in chemistry in which elements are grouped based on similar characteristics. Learning to know the periodic table, the physical and chemical properties of the elements and its application in day to day life requires time and effort. However, it is something students need to know and understand to resolve chemical equations in the near future. Reality technology-based apps provide a medium to impart knowledge in a way that students are able to grasp information faster and also gain a firmer understanding of the concepts.
Here we present an Augmented Reality (AR) app that can increase overall interest and engagement for young learners who find the periodic table challenging. The app displays 3D augmented reality models as overlays on text using a marker-based AR technique. The student has to download the app and point the phone camera at a specific image in the textbook page. The image will be recognized and the animation of the periodic table will be invoked by the app.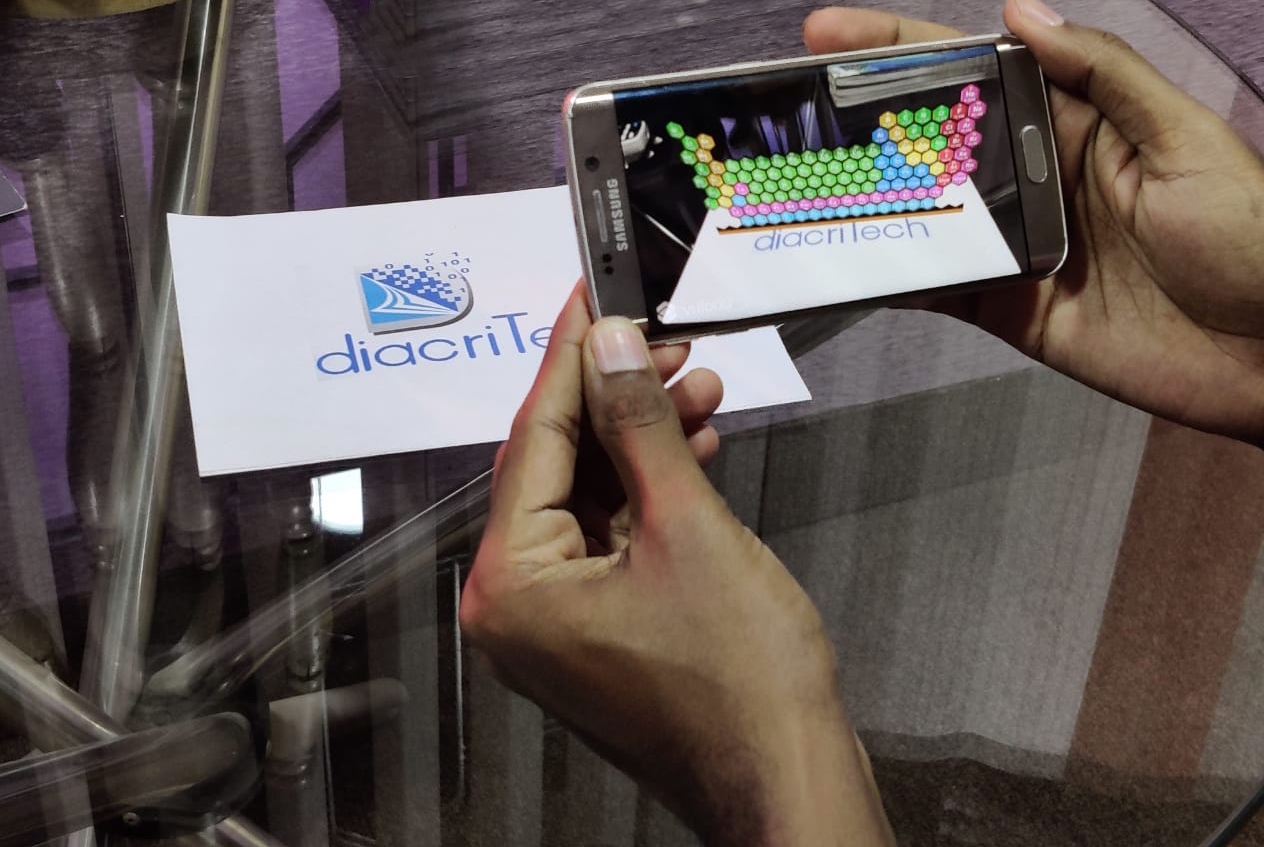 The app lets the user to
Pick an element in the periodic table
View its properties and electronic configuration
Discover its wide range of applications
Interactivity is a key element to reach learners. Just by using a handheld device and an app which provides the opportunity to explore interesting facts, students get to visualize elements and gain instant information of the constituents of the periodic table. From fundamentals of atoms and molecules to the more advanced Periodic Table, AR technology can benefit just about any topic as it creates not just flexible learning spaces but also an opportunity for a "hands-on" experiential style of learning.
As a new age provider of content and eLearning Services, diacriTech specializes in developing leading-edge applications that improve knowledge and understanding of a subject. We channel our experience in publishing to develop supplementary value-adding AR/VR content for print books interlinked with K-12 and STEM curriculum. For more information, please contact marketing@diacritech.com.