One of the biggest concern in digital publishing today is cutting turnaround time while increasing overall productivity. Add to this repetitive mundane tasks, bottlenecks involved in proofing and approval, and the continuous need to provide stakeholders with the most relevant updates… these challenges are real and signal the need for process improvements.
Workflow automation can address these challenges. Workflow automation has exploded in recent years with content service providers recognizing the need for automation to better support their publishing process. It is a priority on everyone's agenda (Editor/Proofreader/Author/Layout Specialists) and brings with it certain game-changing aspects: innovation, addressing pain points, and better user experience.
For those looking to step up their publishing workflow efficiency by automation, here are some key benefits to be considered.
Integrated workflows with automatic routing
When workflow automation is integrated into publishing life-cycle, files can be automatically routed to editors, authors, etc. in all stages without anyone's intervention. Automated notifications can be used to not only improve team productivity but also create accountability.
Minimizing manual work and errors
Whether it's a mundane pre-editing cleanup operation or preparing an index for a book – repetitive tasks are easier to survive with more automation and tools. Automation brings consistency to the process and frees up editors and authors to focus on higher-value work.
Real-time tracking and visibility of the whole publishing process
Information collected, aggregated and shared automatically in dashboards present a great way to improve productivity and keep everyone on the same page. They also help to provide on-demand reporting on production schedules and increase the project's visibility to key stakeholders.
Integrating with external systems
Cloud-based SaaS solutions provide the perfect opportunity to communicate via API's and automatically trigger events. A typical example is typesetters who communicate with post-acceptance tracking systems to trigger the movement of files based on REST API feed.
Achieve speed and scale
Any production process needs to be scalable with the capacity to deal with increased volume of transfers. Automating portions of the production workflow lessen the workload providing the opportunity to scale without impacting turnaround time.
Manage task dependencies in a collaborative environment
Cloud content solutions combined with workflow automation help to securely create, edit, share, and collaboratively work on documents. Multiple permissioned users can work together to co-author, review, and approve in a streamlined manner.
Archive and backup
Time-consuming tasks such as backup and long-term content archiving can be streamlined using automated workflow. This helps not only to capture and store content consistently into repositories but also simplifies any complexity involved in regulatory compliance.

This is just a brief overview of the underlying benefits arising out of workflow automation. Obviously there's a lot more out there in other ways and forms based on each service provider's conception of the need to automate publishing operations and the level of automation required.
How diacriTech can help as an e-publishing company?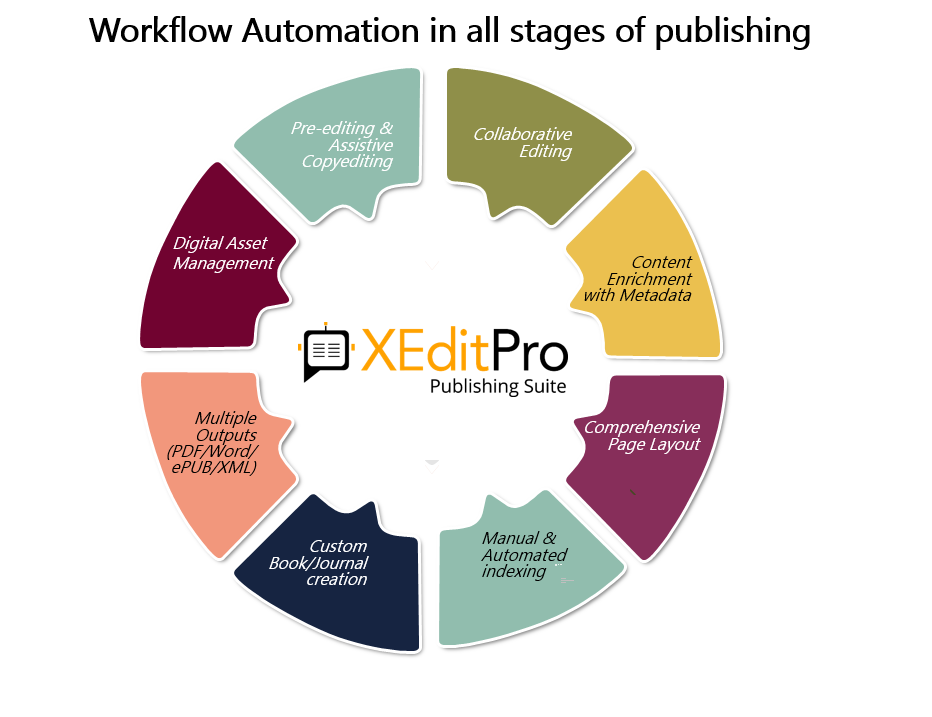 Being a pioneer in the Content Services space, diacriTech is continuously innovating its products to drive operational excellence in digital publishing. XEditPro is our one-stop publishing platform integrating the capabilities of digital publishing processes and workflow management into a single unified offering. By uniting processes and users, XEditPro has helped several publishers and their service partners to automate their most tedious publishing tasks. If you are exploring better ways to automate your publishing workflow, contact marketing@diacriTech.com to see what we're all about.